When you take your first few steps in the burgeoning eCommerce space, you may not have a big budget to market your new online store. It's also likely that you don't have the required expertise to get enough traffic to your website. Fortunately, implementing a few simple yet effective methods can help drive adequate free eCommerce traffic your way.
All you really need is persistence, patience, and an hour or two every day to put these techniques into action.
In this post about how to drive traffic to eCommerce sites, you'll learn to:
Use Social Media to Amass a Following
Connect With Influencers in Your Industry
Create a Blog and Get Free Traffic With SEO
Optimize the Copy on Your eCommerce Website
Turn to Directory Listings
Optimize Your Listing on Google My Business
Come Up With a Referral Program
Create a Rewards Program
These methods are incredibly effective to get free eCommerce traffic without spending a dime on ads (people hate them anyways).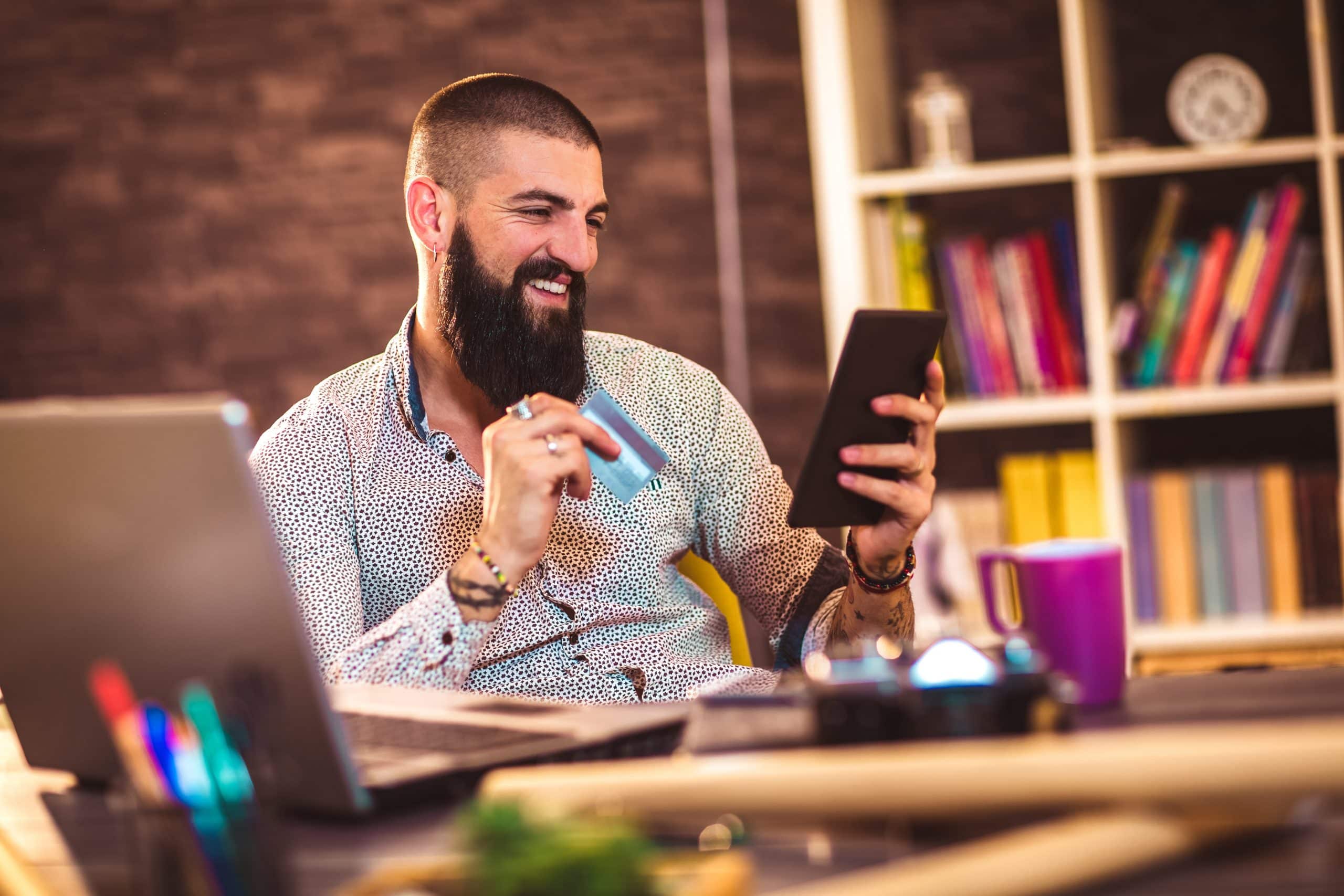 Table Of Contents
2. Connect With Influencers in Your Industry
Your audience, the people who are interested in your products, is surely hanging out on forums, blogs, and social media accounts of popular influencers. Influencers are people who we look upon as successful experts in their fields of interest. It can be anyone from an introvert software engineer to an extremely confident and outgoing fitness guru.
People trust influencers to give valuable advice and information. Once you connect with them, ask them if they're interested in publishing an article written by you with a mention of your products or if they are willing to recommend your products through their social media accounts.
Make sure you don't bombard them with ideas and pitches. Start by getting to know their work and the values they represent. If you like something about them, show your appreciation, as this aids in building a connection. Then, ask them if they would like to collaborate with you.
Bear in mind that most of them won't agree, especially if they have a big following. As a result, when you're starting out, connect with relatively small influencers with a minor yet engaged audience that you feel might be interested in what you have to offer. They'll be more likely to talk to you and look at your offerings.
One way to connect with influencers is to send them free samples of your products in exchange for reviews that link to your store. This helps create a win-win situation, especially if you're selling a high-quality product and the influencer creates high-quality content.
There's really no limit to the number of influencers you may collaborate with, and you may choose to connect with as many as possible. However, you need to select them based on your niche. For example, if you sell health food, you may consider partnering with fitness trainers, dieticians, or bloggers who write about leading healthy lifestyles.
3. Create a Blog and Get Free Traffic With SEO
A blog is not a necessity for your eCommerce website, but it finds a mention in most guides that discuss how to drive traffic to your online store for free. Create a blog, fill it up with useful content that visitors find beneficial, and then leverage its power to fulfill your goals, which, in this case, is to get free eCommerce traffic.
However, there's one probable shortcoming that comes in the form of a statistic. According to Blogging Wizard, more than 75% of people who visit your blog never visit it again, even if they find what you publish to be interesting and helpful. There are two ways to solve this and you should implement both techniques.
Optimize Your Blog Posts for Search Engines
Search engine optimization (SEO) involves carrying out keyword research, implementing backlink strategies, and creating interesting content that increases the time users spend on your website.
SEO helps you get free traffic from search engines. A user searches for something on Google and if Google deems that your content is relevant to the question, it displays your blog in its search results.
People ask Google the same question hundreds, even thousands of times. If your content provides all or part of the answer, you may expect to get a good volume of free traffic to your new eCommerce website.
Add a Call-To-Action to Get Email Addresses
Email marketing is an extremely powerful tool that allows you to get in touch with a potentially limitless audience. You have far greater control over what you can do with it over your Facebook or Twitter accounts. Besides, email marketing tends to come with higher conversion rates.
However, people don't share their email addresses easily. This is one of the reasons you need to ensure that the content on your blog is top quality, so people feel like reading future posts.
At the end of each post, and on your blog, add a small form asking users for their email addresses. Once you build your email list, you can come up with a well-crafted campaign and watch the free traffic roll.
4. Optimize the Copy on Your eCommerce Website
Now, people have extremely low attention spans. Most don't have the time or the patience to read through blocks of text, vague descriptions, and misleading details and offers. This is why you should improve the copy of your website.
Your homepage should create a great first impression. Your customers should know instantly that they've reached the place where they will find what they want.  Your web design should be aesthetic and the user interface should be easy to navigate. Your audience should have fun browsing your eCommerce store and it should feel it is being educated about your products, as opposed to you going overboard to make a sale.
In addition, offer consumers valuable information and advice. Make sure they feel you are serving them. Don't force your promos and advertisements with constant pop ups. Build their trust by accepting and displaying user reviews. This greatly increases a potential customer's confidence in what you are selling.
5. Turn to Directory Listings
One of the cheapest ways to drive traffic to a website is by getting online directories and review websites to list your business.  The first step is to approach relevant online directories and follow the guidelines that will help your business make the cut.  Adding a link to your eCommerce website is important, as this helps drive traffic its way. You also need to provide accurate information about your business.
Search engines like Google rank some online directories better than others, so it's important to identify the right ones. Besides, some directories are niche-specific. eLocal, for example, specializes in listings related to legal, medical, insurance, automotive, and home services.
Some of the top free business listing websites in the U.S. are:
Google My Business
Yelp
Yahoo Local
Bing
HotFrog
FourSquare
Insider Pages
MerchantCircle
6. Optimize Your Listing on Google My Business
If your business serves customers from a physical location or by visiting them in person, its eCommerce website may benefit significantly if you optimize your listing on Google My Business. Bear in mind that this is not possible for purely online businesses that don't provide any in-person interactions.
Optimizing your Google My Business listing involves:
Providing details about your business such as hours of operation, its description, address, phone number, and website
Adding images of your store and products (listings with images have better click-through rates than ones without)
Adding a concise description that uses relevant keywords
Keeping track of customer reviews and replying to them as quickly as possible
Using posts to share details about promos, new launches, and events
It's possible to get potential customers to contact your business via your listing through buttons like "call," "message," or "website." Since this gives consumers the ability to interact with you directly, there's an increased likelihood of getting more new customers through this channel.
7. Come Up With a Referral Program
Data shared by Invesp indicates that leads from referral programs have a 30% better conversion rate than leads from other channels. In addition, referred customers are four times more likely to spread the word about your brand to others and have a 37% higher retention rate.
If you plan to come up with a referral program, start by keeping it as simple as possible. For example, if A refers B to your website and B makes a purchase, you could offer B a one-time 20% discount at the time of the purchase. A could receive a 20% discount on his/her next purchase.
Running a successful referral program requires that you give your customers something they value. It is also important that you promote it in the right manner. What helps is that various online tools give you easy means to create, run, and track referral programs, some of which include:
Referral Factory
Refersion
Referral Rock
Friendbuy
InviteReferrals
Ambassador
8. Create a Rewards Program
Jill Griffin, in the book Customer Loyalty, suggests that the probability of making a sale to a new prospect is between 5% and 20%, whereas it increases to 60% to 70% with an existing customer. An easy way to bring customers back to your eCommerce website is by running a rewards program.
Creating a successful rewards program typically involves:
Understanding your target audience
Choosing from different types of rewards programs (points-based, tiered, paid, value-based, or game-based)
Defining the program's goals
Choosing strategies that encourage customer loyalty
Promoting the program via emails, social media, and your eCommerce website
Measuring the program's success and making suitable tweaks
Seeking feedback from customers regularly
Conclusion
While you might not connect all these tips with getting free eCommerce traffic, know that each plays a crucial role. Providing a positive and fulfilling experience to people who visit your website will definitely drive more free traffic to your new eCommerce store. Consumers will want to return to buy from you and will recommend your website to others as well, which is the most cost-effective way to promote your online store. If you're still unsure about how to get traffic to your eCommerce site, consider partnering with a digital agency that specializes in this realm.
Ready to Boost Your Business Online?
Request A Quote