If you want your new website to have the desired effect, it is important that you work with a reliable web design agency. Making the right selection might seem like a daunting task, not only because of the money you plan to invest, but also because of the basic groundwork that the process requires. The best place to start, without a doubt, is to come up with a good website design and development RFP.
The website design RFP you put together does not have to be complex. However, getting all the required information may help you avoid unnecessary problems in the long run. Remember at every stage of writing an RFP that it will give you the means to find the best web design agency according to your specific requirements.
What is an RFP?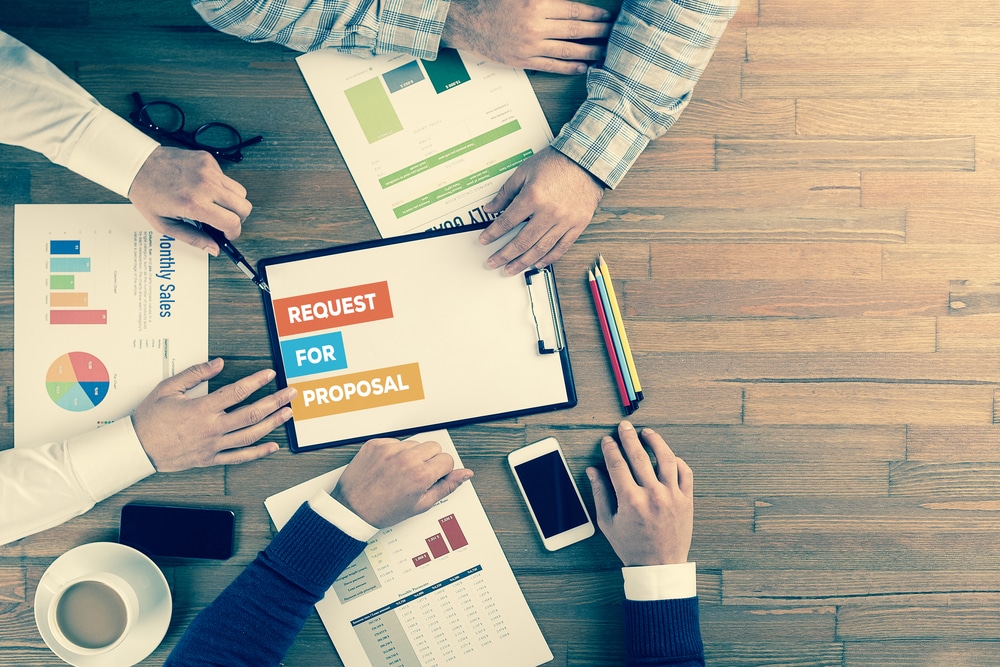 A request for proposal (RFP) does not limit to the world of web design and development. An RFP is a document that any organization may post to elicit responses in the form of formal proposals or bids from potential service providers. An RFP comes with specifications of what a business requires, and it also sheds light on criteria that the business might use to assess different vendors.
A typical RFP for website design and development provides information about the online requirements a business might have, be it increasing traffic or boosting online sales. If there is a bidding process to be followed, the RFP provides relevant information. It also gives potential vendors an indication of the format that their proposals should follow. Once the proposals are in place, the business may choose a vendor based on factors such as reputation, expertise, and feasibility.
The Importance of Good Web Design RFPs
Clearly defining a project's requirements and laying down what's expected gives web design agencies and their clients the means to determine how they might be able to work together. A well-written web design RFP not only indicates what you want your new website to accomplish, it also helps the agency you select to align its efforts with your objectives and goals.
With a website RFP sent to multiple service providers, you may benefit through the different perspectives that come your way. You may also get to look at the different technologies in use as well as possible configurations that might help boost your business' overall online presence.
If your website design RFP is not up to the mark, you stand to lose out on the web design agency that might work best for you. This is because an RFP that is vague or does not mention specific requirements might not elicit desired proposals from potential agencies. Restrictive or overall detailed requirements, on the other hand, may also have a similar effect.
What Makes a Good RFP?
It is not uncommon for agencies to ignore website design RFPs or not respond to them, especially if they don't get a clear picture of the road ahead. When creating an RFP for website design and development, bear in mind that the process requires more than just asking questions. You need to communicate clearly, providing useful information about who you are and your business. This gives an agency the ability to decide if it wants to take the business relationship further.
Remember that it's not just you who is selecting a service provider; you are also hoping that the one you pick agrees to work with you. What you don't want is losing out on a great agency simply because it feels that you are not an ideal fit based on the web design RFP you provided.
Good Web Design RFPs are Structured
If you are wondering what to include in an RFP, take some time to go through some good website RFP samples. Once you do, you will realize that while the elements might vary slightly, they are always structured. As a result, they are easy to comprehend. Elements that go into a well written and structured RFP include:
Overview of the business
Overview of the project
Your target demographic
Your goals
Details about your existing website
Objectives of your new website
Requirements for your new website
Sitemap
Budgetary details
Ongoing support
RFP and project timelines
Questions
Criteria for selection
How to Write a Website RFP That Has the Desired Effect?
All the good RFP examples for website design have one thing in common. They are well structured. Once you have a well-defined structure in place, the next step is to build on it based on your specific requirements. The website RFP you create should stand out from the clutter by being focused and straightforward. The intricacy that goes into a writing a great website design and development RFP is essentially up to you. However, some of the basics remain the same.
Overview of the Business
Start your website RFP by providing a concise history of your business. Give potential agencies an indication of the role you play in your business, your business offerings, the industry your business belongs to, and your typical customer or target demographic. As all good marketing RFP examples show, this aspect is crucial because it gives agencies insight about your business and its operation, helping them decide if might work as a good fit.
Consider this example. "We, at Vista Magnifique Resort, have offered exemplary high-end hospitality services for close to five decades. While our guests come from various countries, a majority are from Europe. In my current role, I oversee the resort's marketing requirements."
Overview of the Project
The second section of your website design RFP should give agencies all the important information they need to make a decision about whether on not to work on the project. It should indicate why you are submitting the RFP. It should also tell potential agencies what you expect from them in a clear and concise manner. If this part of your RFP is left wanting, there is a good chance that people reading it will stop right here.
Your Target Demographic
This section requires that you describe the audience you wish to target through your new website. Web designers and developers find this information very useful because it helps them determine which path to take when it comes to aesthetics, functionality, and user experience.
Your Goals
No matter whether you are writing a web design RFP or a web redesign RFP, be very clear about the challenges that you or your target audience face. Determine just what you wish to achieve through your new website. Recognizing existing problems is a great place to start. Being clear about your goals gives agencies the ability to understand what you plan to accomplish overall.
Details About Your Existing Website
This applies if you have an existing website that does little to boost business. Do not hesitate to point out any perceived shortcomings in your website. Mention why you feel your existing website is not working. For instance, a resort might view the inability of guests to make online bookings as a major drawback. Ask yourself if information on your website is quick and easy to find. Does you website get enough leads but they do not convert to customers? Does it work well across different kinds of devices or do you need a custom web application?
Objectives of Your New Website
If you have an existing website with shortcomings, you should have a fair idea of what you want your new website to achieve. If not, you still need to determine what you want from your new website. For example, do you want to attract more leads? Do you want to increase your users' on-page time? Are you looking at incorporating a shopping cart? Do you need your new website to come with a responsive design? Once you have your objectives set out, you may move to considering what it takes to get there.
Requirements for Your New Website
This section serves as the core of your website RFP. It gives agencies means to determine how much the project might cost. Make a list of all the services and functionalities you want, while distinguishing the mandatory from the optional. Examples include project management, UX/UI planning, responsive web design, e-commerce website development, content strategy, content creation, on-site SEO, brand positioning, and online marketing.
This is typically the longest section in an RFP for website design and maintenance, given that there is an array of variables that may have an effect on the final outcome. If you mention your requirements in detail, agencies find to easy to arrive at estimates. In addition, while some agencies might specialize in particular technologies such as WordPress and web application development, others may not.
Sitemap
How your website is organized plays a crucial role in how users find the information they need, and a sitemap   can simplify the process considerably. If your users cannot find the information they are looking for quickly, the negative user experience that follows may result in their leaving your website. A sitemap basically works as a table of content. Determine how many pages your new website needs, although this is an aspect web design agencies can address effectively. Other than the homepage, your website may have other pages such as:
Services
Blog
About
Contact
Budgetary Details
Whether you are writing a website design or website development RFP, make sure you include your budget. Once an agency sees that you have a predetermined budget in mind, it knows that you are serious about using its services. Besides, an agency can provide solutions depending on your objectives and the scope of the project while keeping your budget in mind. If you are looking at ongoing maintenance and support, allocate a budget for it separately. If you do not have a conclusive figure, at least provide a range.
Ongoing Support
What happens once your website is launched? It is common practice to engage the same agency that creates a website for ongoing development, support, and in some cases, even training. With the launch of your website being no more than a starting point, you need to consider how to attract traffic as well as add new features or fix bugs. If your project requires post-launch advertising and marketing, limit sending your RFP to full-service web agencies.
RFP and Project Timelines
An RFP for website design and maintenance should provide agencies with clear timelines. For starters, mention how quickly you need the proposal. If you want your website to go live by a specific date, make sure you include it in your RFP. You might also want to include milestones surrounding events such as the launch of a new product or an advertising campaign.
Bear in mind that web design and development requires addressing multiple factors and tends to take time. As a result, set realistic deadlines. This gives potential agencies the ability to determine if they can complete your project within the stipulated timeframe.
Questions
As you work your way through your web design RFP, it is normal to come up with various questions. Instead of asking them in different places, keep all the questions restricted to this section. This gives agencies easy means to answer all your questions effectively without having to scout the document over and over. If you are unsure about how to meet your objectives, don't hesitate to ask. Asking for recommendations can go a long way too.
Criteria for Selection
Include the criteria you plan to use to make your selection in your website design and development RFP because agencies can then decide whether or not you may benefit by using their services. Some of the aspects you might want to consider include expertise, portfolios, capabilities, and history of working on comparable projects.
Conclusion
Web design and web development RFPs are not difficult to write, provided you know what aspects to consider. While using a website design RFP template might work as good starting point, what should go in it should take into account your specific requirements. Make sure you keep your RFP to the point, although it should clearly communicate what you're after. If you manage to create a great RFP, you may well expect proposals from the best in the business.
Ready to Boost Your Business Online?
Request A Quote