You have an e-commerce store or thinking of opening one. And there is one big thing on your mind which makes you worry…
How do I bring in lots of high quality, free traffic to my e-commerce store?
After all, your goal is to sell your products. And there isn't a better place than the internet on which to do that, with billions of people shelling out cash every single day for their favorite products.
But here's the problem.
You're not alone. There are probably hundreds of thousands of people just like you trying to get the attention of the same people you are, hoping to get them to make a purchase.
So how do you stand out?
How do you make sure people are paying attention to what you have to offer on your e-commerce store, rather than your competitions'?
Well, Here are 3 simple ways you can bring in free, high-quality traffic to your e-commerce store:
Create Ridiculously Good Content Which Gets Shared And Ranks Well
Leverage The Power of Email Marketing
Do Giveaways And Exciting Offers
1. Create Ridiculously Good Content
How Good Content Increases E-Commerce Traffic
Nowadays, sleazy tactics of selling don't work.
Customers are smarter and make much more informed decisions than before. Before they even come to your store to buy your product, there's a big chance they have done their research and have their mind already made up as to whether to buy your product or not.
So how can you play a role in influencing their decision?
With your content, of course.
Your blog can become a place where they can be sure they can get useful, helpful advice that will help them make the best decision possible.
It will increase your authority and their trust in you and drive them to make a purchase. And more importantly, it will make them want to tell others about you as well.
Word of mouth can be an extremely powerful way of marketing, and this is exactly that. And best of all, it's a free way to get high-quality traffic to your e-commerce store!
How To Create Content That Gets Shared
The best way to create valuable content your potential audience will be interested in is to browse popular websites and forums that are of the same topics you want to write about.
For example, if you sell musical instruments through your e-commerce store, visit popular blogs, forums, and websites where people get the latest news, discuss trends and talk about music and musical instruments.
You can easily find what your audience is interested in and what topics are popular. This will give you a solid start on what to write about.
And to make sure your content gets shared, ask your audience!
Tell them to share it on Facebook, Twitter and other social platforms like Pinterest and Instagram. Ask them to leave a comment. The more engagement your content has, the higher the chances of it ranking higher and getting found easier which means one thing: More traffic!
2. Leveraging Email Marketing
Email Marketing: Why Is It So Powerful?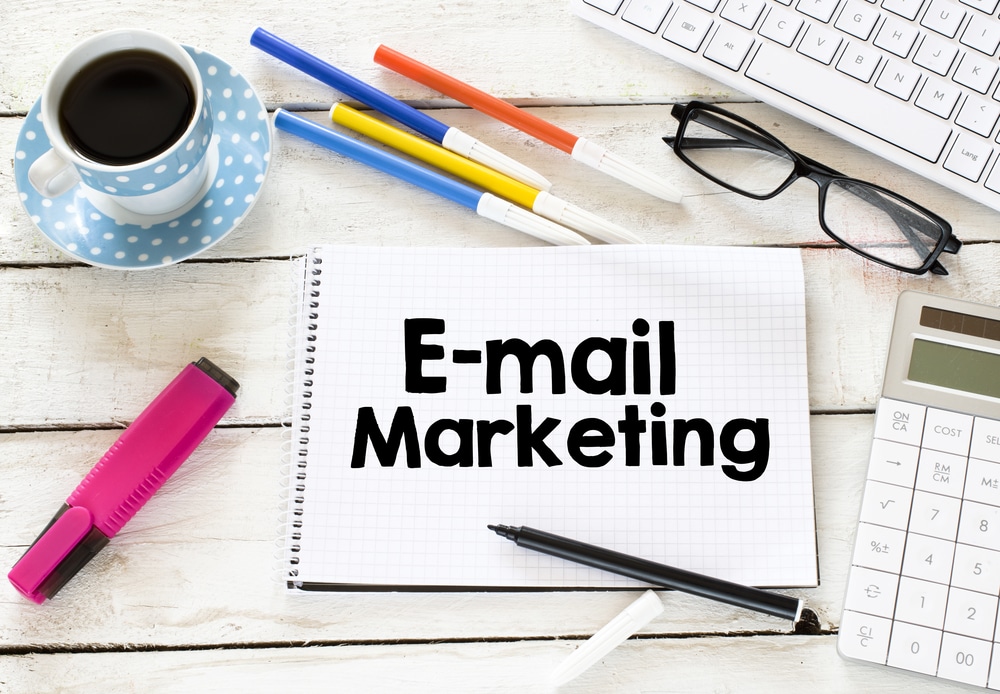 You want traffic to your e-commerce store. But that's not the end goal, is it?
The end goal is to get the people who visit your website to make a purchase.
While blog content can be a helpful way to get yourself discovered, it isn't the best way to retain customers. At least not by itself.
This is because according to research, 70% people who visit your website through search engines, never visit again. That's a lot of lost traffic.
There could be many reasons for this, maybe they found something better or just simply forgot.
This is where email marketing comes in.
Email marketing helps you retain these customers and bring them back, positively impacting the traffic you can get.
How To Convince Your Readers To Give You Their Emails
When people visit your e-commerce store or blog, there should be a prominent space dedicated to collecting the emails of your audience. Sumo Tools is a very good free option if you're just starting out.
But be warned, unless your content or the products on your store is really that good, most people won't easily give away emails.
An effective way to tackle this problem is to give them something in return.
For example, instead of just asking your readers to give you their emails, ask them to avail a flat 10% discount on their first purchase and then direct them to sign up with their email.
This is the best way to collect emails from your audience.
Now that you have personal emails of people interested in what you have to offer, all you have to do is create certain attractive campaigns and send them strategically to their email accounts (don't spam them!).
This is sure to get you lots of high-quality traffic to your e-commerce store and consequently, lots of sales!
But remember, their emails are highly sensitive pieces of information you shouldn't disclose to anyone. Assure them they will be treated with the utmost security and won't be misused.
3. Increase Traffic With Giveaways
This is the another highly effective way to get free traffic to your e-commerce store.
People love free stuff and for that, they are willing to go a mile further than usual.
So what you can do is set up a giveaway of something in your store you are sure people will definitely like.
Services like Rafflecopter are extremely effective at helping e-commerce stores and other businesses gain high-quality traffic through giveaways.
The premise is this: To enter the giveaway lucky draw, your visitors have to perform two or three simple tasks like signing up to your email list or sharing your website on their Facebook or Twitter feed.
These are simple tasks which can be performed in minutes. And they will get your audience to effectively drive traffic to your e-commerce stores all through the simple act of giving away a few highly desirable products.
One helpful tip: If possible, increase the number of items you give away to at least 5 or 10 in quantity. This will make your audience more hopeful of winning something and will increase their chances of participating in the giveaway.
And this, in turn, is sure to exponentially increase the level of promotion – and traffic your e-commerce store will get.
All of the above tips are proven methods which have given powerful results. Be sure to give them a try to see what works for you best!
Ready to Boost Your Business Online?
Request A Quote